Article: digital 2D/3D panoramic X-ray machine, wall model
Type: MyRay Hyperion X5 3D Air
Manufacturer: Cefla SC, Italy
Year of manufacture: 07/2016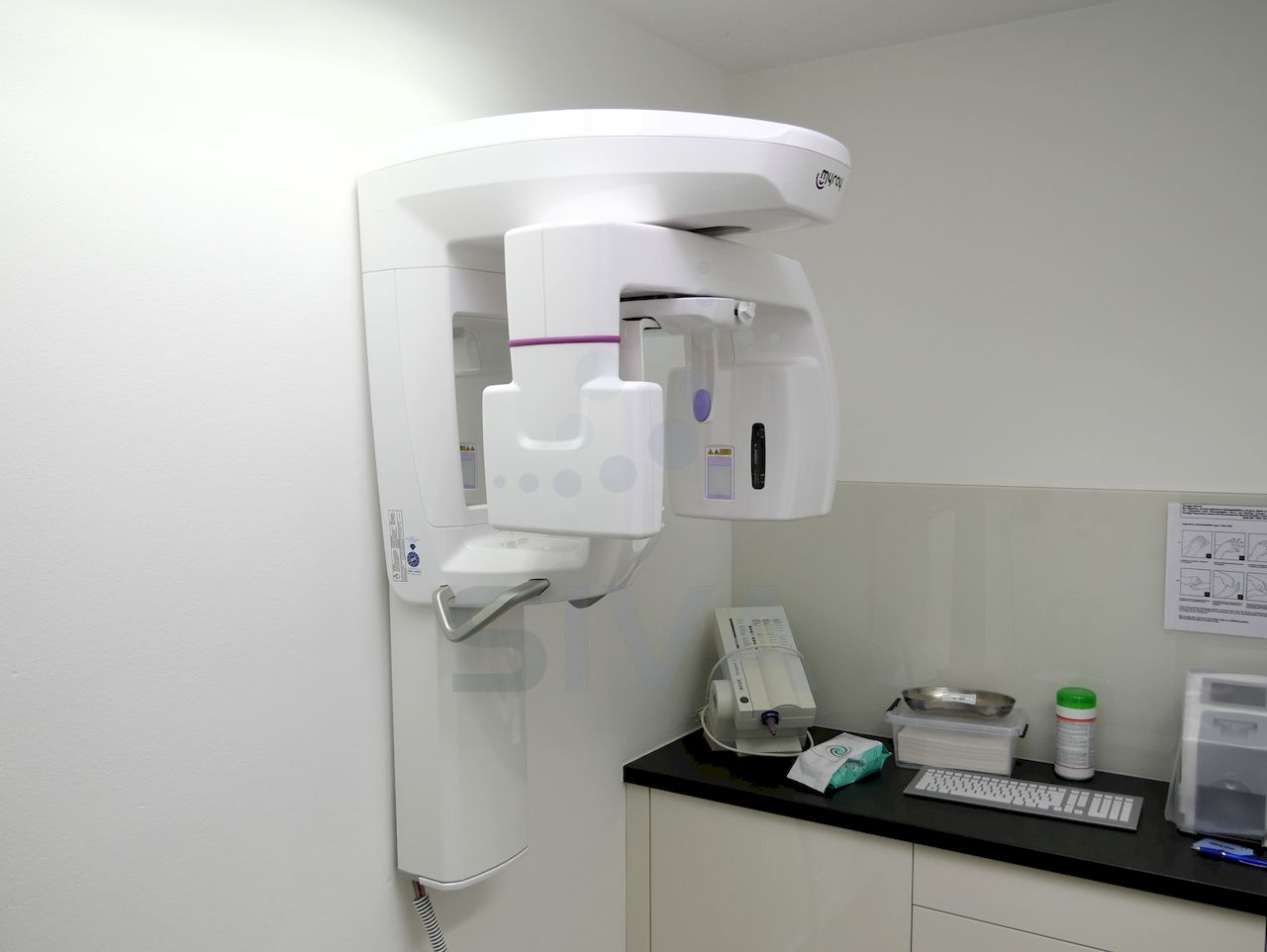 Features:
Complete examination of both dental arches in single scan for adults and children (reduced collimation). Examinations of the jaw area with maxillary sinuses; local examinations of the region in question
High-resolution CBCT examination (80 pm) with possible single scan of the complete dentition (FOV 10×10) or scanning of various limited sections (MultiFOV) for reduced exposure in the area to be examined
Short wall column
3 light sights, autofocus (automatic adjustment of the dose to the patient)
A single 3D/2D QuickScan sensor
MRT (Morphology Recognition Technology)
2D Focus-Free
Up to 22 2D programmes
Stable positioning facilitated by 3 laser guides
Quickpan for beam reduction
Multipan (several views possible from one image)
Integrated accessory compartment
Technical data:
Theoretical (maximum) resolution at patient level: 6.3 lp/mm (80 µm voxel)
Max. Size of image data: 720 MB
Scanning time: Super HD: 16.8 s (Best Quality)
Standard: 9.6 s (Regular)
QuickScan: 6.4 s (Low Dose)
Voltage and frequency: 115 – 240 V single-phase 50 / 60 Hz
Maximum current consumption under working conditions: 20 A at 115 V; 12 A at 240 V
Minimum dimensions required for operation (L x D): 872 mm x 1030 mm
Weight: 99 kg
Incl. accessories:
MyRay remote release (cable)
Quart test specimen case with holding system, copper filter Cu 0.8 mm, Cu 1.0 mm, Quart DVTpro v 2.9.10 software (on PC)
PC HP Z240 Tower Workstation, Intel Xeon E3-1270 v5 @ 3.60 GHz, 16 GB RAM, 250 GB SSD, Windows 10 Pro
EIZO RadiForce Mx215 diagnostic monitor
iRYS 9.1 software with dongle, for 2D/3D scans
Are you interested in the object? Then call us right away: +49 (0) 7275 9898780, or write to us using the contact form. Are you interested in payment by instalments or leasing? We will be happy to put you in contact with our partner banks and leasing companies.