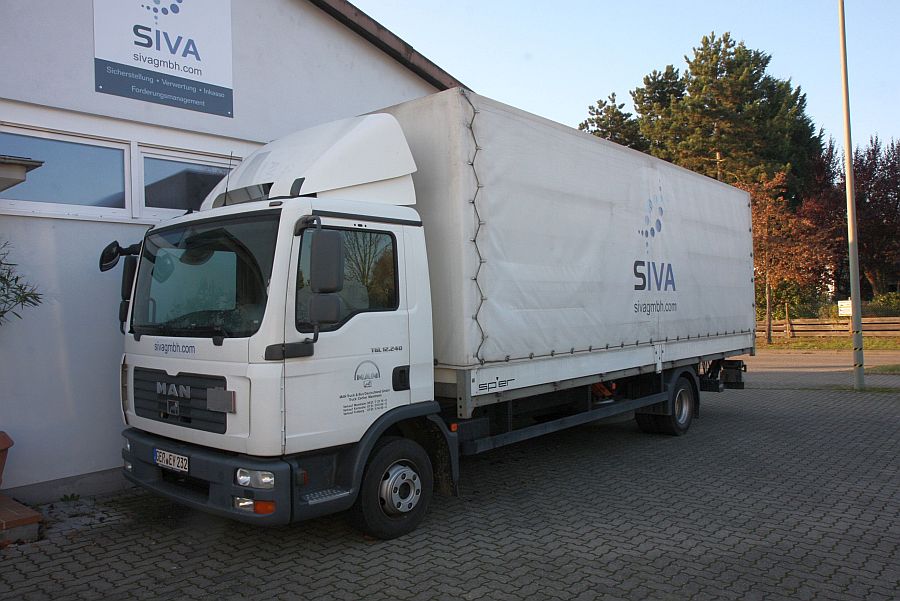 The SIVA GmbH is a modern service company that is looking to grow. The term "SIVA" stands (in German) for "confiscation and liquidation of fixed assets" and verbalize the essential fields of activity of the company. In this process our activities includes practically all assets of the fixed capital of companies. Next to leasing companys, banks and other agencys of the credit economy, there are smaller companies as well that we can count to the customers of the SIVA GmbH. We support you in regaining leased objects and selling them. We also help you to raise a claim on your money!
Next to our company headquarters  in Kandel near Karlsruhe we have different company locations  in Elmshorn near Hamburg, Essen, Halle (Saale), Nürnberg and Kempten. In addition, numerous business partners of our confidence to support us every day in the rapid execution of confiscation, assurance measures and object checks and research activities. We have an own transport fleet at our command with multiple vehicles including a 12- ton truck with trailer. If big assignments are too much for our transport capacities we are able to make use of our cooperation with our partner shipping company. To our capacities we can count a  500 m² frostprooven hangar with up to 6.5 m hall height as well as secured space for vehicles and different machinery of all kinds.
What we want to highlight from the SIVA GmbH
legaly trained and  economic competence

transregional range (D/A/F)

silent but pressurefull appearance

transparent of all activities with the help of assignment blogs for our customers
CEO Jörg Schrader
Diplom-Wirtschaftsingenieur (FH)
Bachelor of Arts (B.A.)
Before founding the SIVA GmbH Jörg Schrader worked as a taskmanager dealing with the creation of inventorys of bankrupt companies and evaluating the value of those. He collected a lot of experience working with  receiverships and had contact with countless leasing companies, banks, manufactures  , suppliers and other creditors. It was always important for him to check out the situation by himself to capture technical and economic coherences. He often was the facilitator between debtor, liquidator and creditors and gave tips to every party to provide the best solution possible.  Since 2005 he organised deals between leasing companies, banks and debtors.
Next to a degree in economics Mr. Schrader also finished a degree course in September 2014 named "Unternehmertum" in Karlsruhe and was given the academic title "Bachelor of Arts (B.A.)". He owns the collection agency SIVA GmbH according to the terms of use of the "Rechtsdienstleistungsgesetzes (RDG)" .