incl. needle head 260 needles and belt filter Fomaco CBF 500
1. Injector-tenderizer Fomaco FGM 48F SC BLP M3
Type: FGM 48F SC BLP M3
Manufacturer: Fomaco A/S, Denmark (fomaco.com)
Year of manufacture: 2015
Flexible injector tenderizer for meat, poultry or fish industry. Good condition, previous use in the field of fish.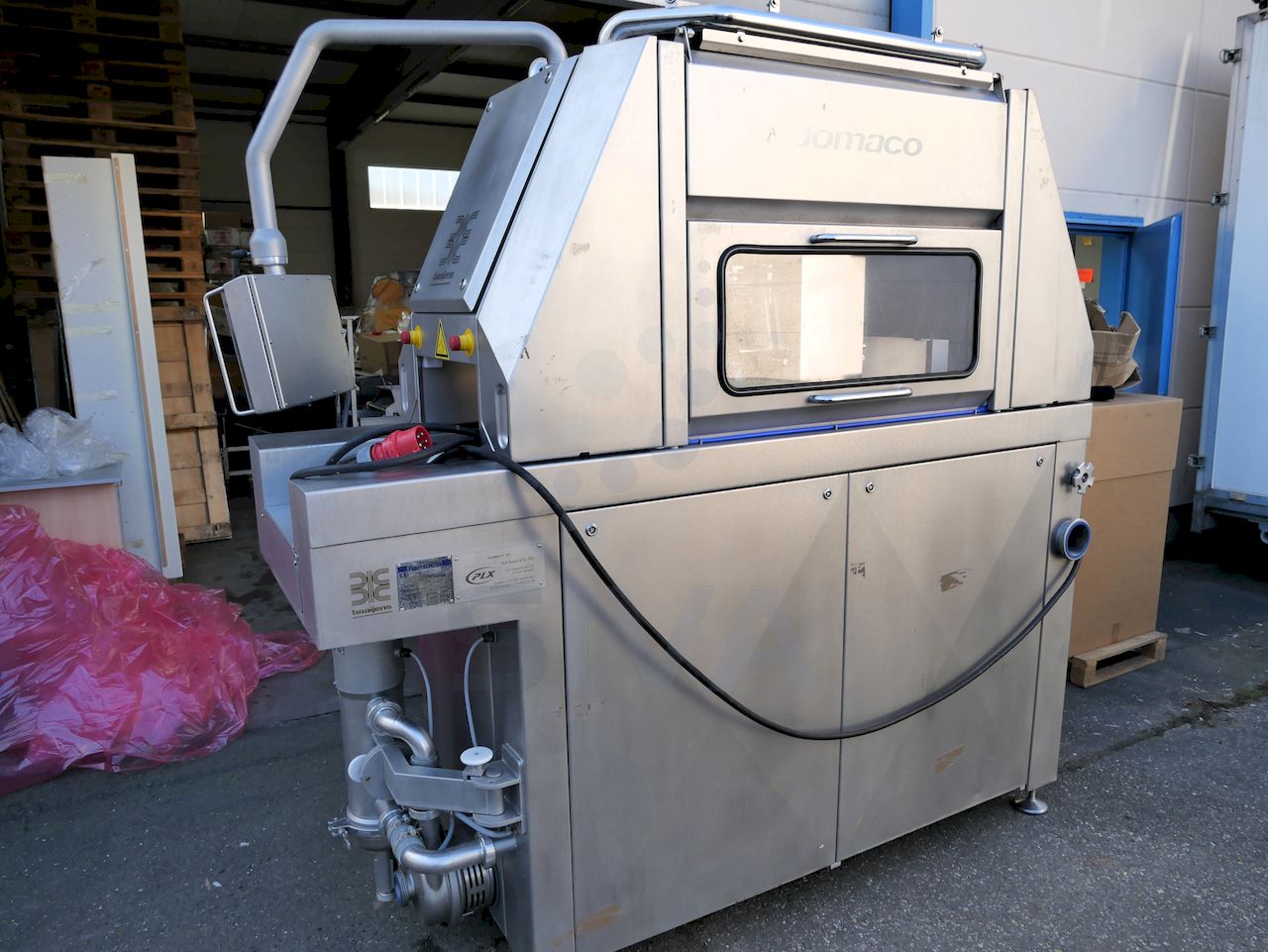 The M3 is a series of thoroughly tested, high quality production machines designed for use in demanding and aggressive production environments. The "box-in-box" design seals and protects critical electrical components and controls from water, moisture and weather ingress. State-of-the-art pumping systems eliminate dead zones and areas of low flow, resulting in constant pressure and precise flow. The result is uniform brine distribution – regardless of product, type, size or number of needles. Disassemble the full needle cartridge in seconds with the BLP quick release system. Inspection, cleaning and disinfection has never been so easy! This also allows for immediate replacement with a clean needle cartridge.
The BLP needle head is designed as a pump-to-product system, ensuring optimized brine flow and preventing sediment build-up. The high-performance centrifugal pump ensures constant brine pressure, regardless of the number of needles in the product. The high-performance centrifugal pump ensures constant brine pressure, regardless of the number of needles in the product, and thus uniform brine distribution regardless of product size.
Sophisticated design for highest hygiene requirements:
all pipe connections are located on the outside of the lower compartment
all piping has hygienic dairy fittings for easy disassembly/inspection
all pump housings and filters are accessible from the outside for inspection and cleaning
everything is made of stainless steel and food grade plastics
all electrical components are fully protected
pump and complete brine system can be easily disassembled
all connections are mounted with hygienic fittings and completely isolated from electrical installations
automatic, computer controlled washing program
self-draining mechanism
Technical data:
Box-in-Box design, main doors IP 65, control cabinets IP 68
adjustable movement range of the needle head
linear acceleration for uniform salt and marinade distribution
needle head 400 x 260 mm, 260 needles 1-90 stitches per minute
infeed: 87-130-260 mm
Stripping heights H1: 55-75-95 mm
Fomaco FM 80 self-cleaning protein filter
15″ touch display, mounted on a swivel arm for comfortable operation from all angles, IP 69K
Transport system stainless steel or blue plastic (belt), width 42 cm
erf. power connection CEE red 3x 400 V 11 kW, max. fuse 35 A
erf. compressed air 6 bar
dimensions 230 x 88 x 277 cm (LBH)
weight approx. 980 kg without needle head
2. Bandfilter Fomaco CBF 500
Type: CBF 500
Manufacturer: Fomaco A/S, Denmark (fomaco.com)
Year of manufacture: 2015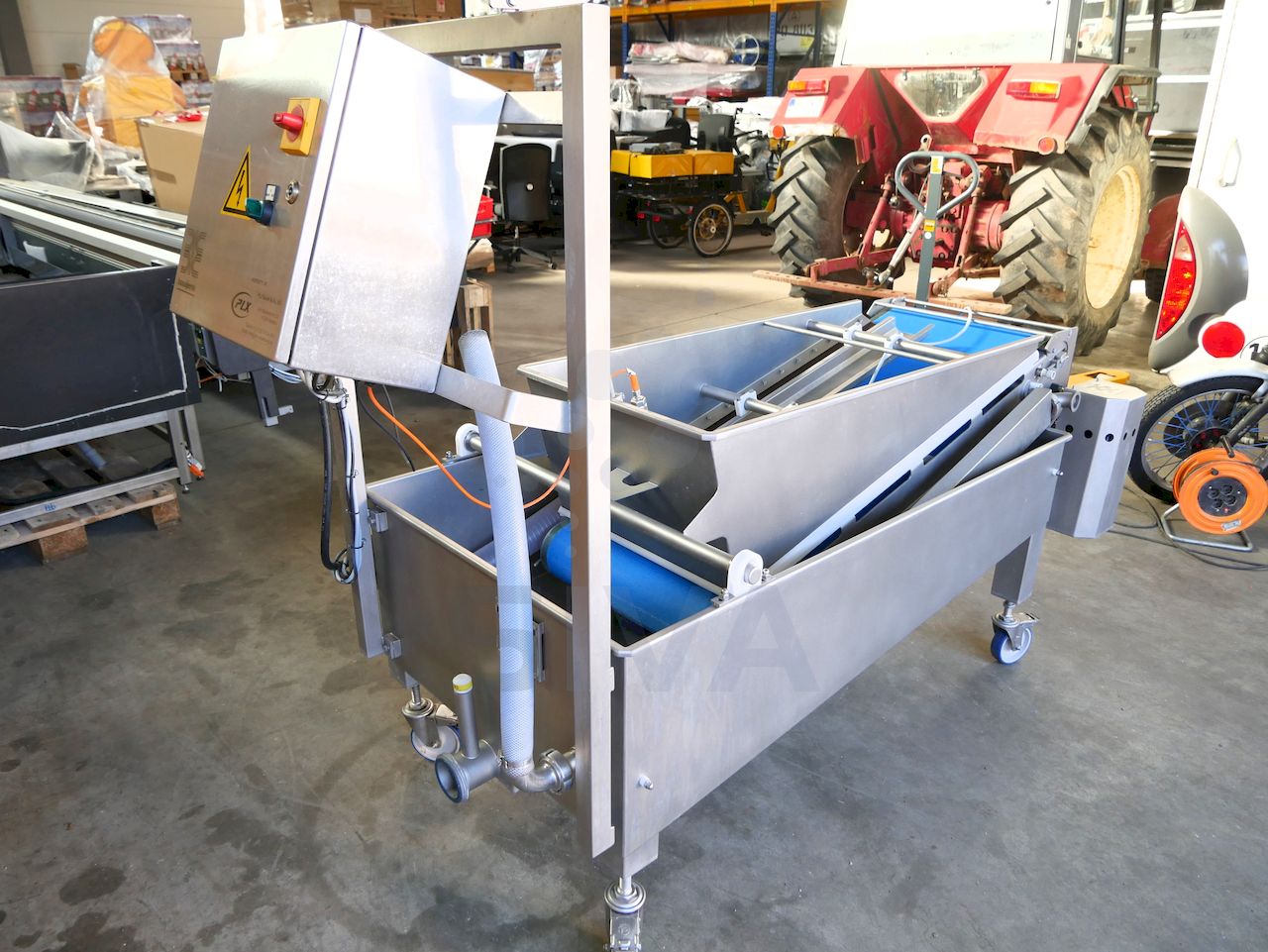 The Fomaco belt filter is the next step up after the rotary filters. With its built-in conveyor belt, the CBF 500 is suitable for medium and large production scales with high filtration performance requirements. The unit is designed to collect, filter, condition and reuse the return brine from the Fomaco injector and performs very well in low to medium viscosity brine applications. Due to the very large filter area, the filter handles high particle loading very well. The combination of 500 – 800 micron belt filters and the FM 80 self-cleaning protein filter provides the highest filtration standard. The tank's sloped-bottom design prevents sediment build-up at the bottom and ensures minimal waste of potentially expensive brines or marinades when changing products.
Technical data:
330 l volume
compatible with FGM 48 / FGM 64 / FGM 88 / FGM 112
required power connection CEE red 3x 400 V 0,3 kW, max. fuse 16 A
dimensions 220 x 100 x 150 cm (LBH)
Weight 196 kg
Are you interested in the object? Then call us right away: +49 (0) 7275 9898780, or write to us using the contact form. Are you interested in payment by instalments or leasing? We will be happy to put you in contact with our partner banks and leasing companies.
Sie sind an dem Objekt interessiert? Dann rufen Sie uns gleich an: +49 (0) 7275 9898780, oder schreiben Sie uns per Kontaktformular. Sie interessieren sich für eine Ratenzahlung oder ein Leasing? Wir stellen gerne Kontakt zu unseren Partnerbanken und Leasinggesellschaften her.