Type: ArtLine III
Manufacturer: AICHINGER GmbH, Ostring 2, 90530 Wendelstein, Germany
Purchase according to invoice: 11/2018
Disassembled professionally and stored on pallets in our warehouse. Very good condition.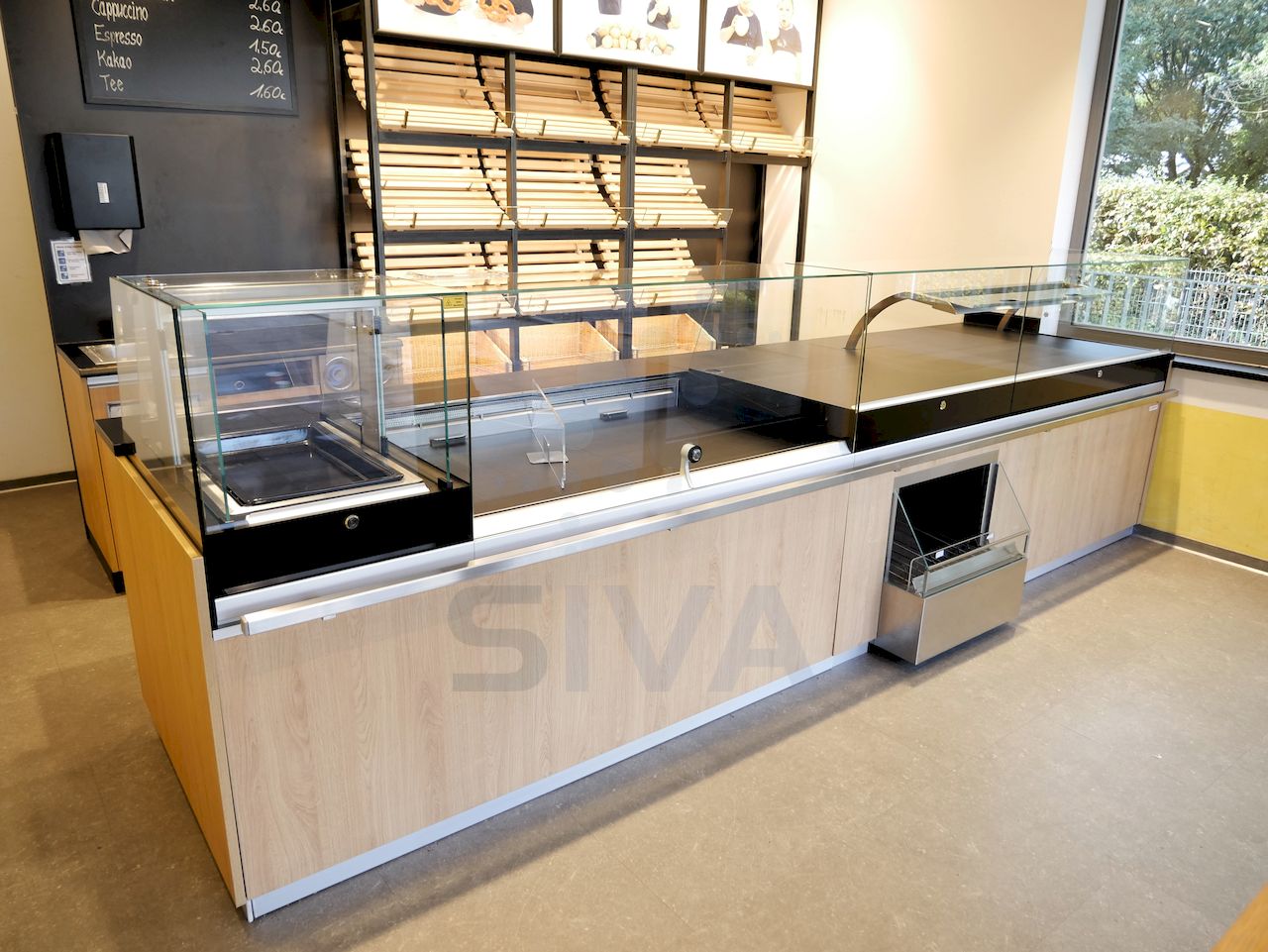 Slice type: ARTLine OK 1252mm I ZP 330mm
Worktop type: Postforming
APL depth: 1060
Front type: Decor
APL decor edge: A1 MGM_black
APL postforming: G/A1 MGM_black
Delivery: table level
Price strip: EV 1
Front decor top: E/H3395 ST12_Corbridge natural oak
Front edge top: H3395 ST12_Corbridge natural oak
Finish: Standard (V20)
Front profile: EV 1
Base strip: EV 1
Pocket shelf type: 1-tube/Waab CNS
The shop fittings consist of:
Counter
Free-standing end for modules with glass top, decor-coated chipboard, with 2 mm edges, 8 mm safety glass and aluminium trailing base.
Glass end side painted in lower area, dimensions 29 x 965/1,050 x 1,252 mm (LWH)
HotMaxx 11 in tubular steel construction with glass top, HM 11 for installation of heating appliances up to 1 x 1/1 GN, dimensions 520 x 1,000/1,060 x 1,252 mm (LBH)
Built-in appliance: built-in warming tray HTB 11, top heat adjustable, Gastronorm ceramic tray 1/1 (has one crack), dimensions: 530 x 325 x 60 mm (LBH), black finish
CoolMaxx VKS 5 triple 1246 Refrigerated counter in tubular steel construction with glass top, for cakes and snacks with built-in circulating-air cooling insert VKS 5 triple for 3 x Euro trays 400x600mm, pre-equipped for connection to an external refrigeration machine, cooling insert with pressure-foamed CNS hygiene tray, powder-coated and liftable evaporator, adjustable energy-saving fans 24V, built-in refrigeration controller, liftable and extendable product display area, dimensions 1. 246 x 1,000/1,060 x 1,252 mm (LBH)
Equipment: Refrigeration controller with digital display, defrost control and thermostat output, TEV for R134a, without refrigeration unit, defrost water tray: No (fixed connection), built-in unit 1: VKS5 1215
Separation Left: GLASS SEPARATION. BETWEEN
BasicMaxx BMS-T 846 in tubular steel construction with glass top, goods presentation surface at table level,
dimensions 846 x 1,000/1,060 x 1,252 mm (LBH)
Separation left: GLASS SEPARATION. BETWEEN
BasicMaxx BMS-G-VF 1246 in tubular steel construction with glass top, goods presentation surface sloping, pre-equipped for installation of the intermediate shelf VarioFlip
Dimensions 1,246 x 1,060 x 1,252 mm (LBH).
APL shape: Inclined, paper tear-off: Left 500 mm
End panel for BasicMaxx modules with glass attachment for wall connection with glass side panel, 48 mm wide (allows wiping distance to wall)
Intermediate shelf VarioFlip 3, swivelling intermediate shelf with LED lighting for 3 Euro trays
Refrigerated display case with Cool Bottle 60 – Z Special bottle slide, built into the front
Operating side: drawer with full-extension runner and viewing window for uncomplicated loading; condensation water: with central cooling, on-site drain required;
Grab & Go: refrigerated display case open to the customer for attractive presentation of chilled beverages; Perfect View: first-class overview of the entire range thanks to sloping presentation level
Bottle Slider: always well-filled sales front due to automatic sliding of bottles after product removal; positive effect due to perception of a full assortment; attractive product presentation thanks to LED lighting with natural colour rendition, drawer with full extension on the operating side for simple and uncomplicated loading, quick refilling or rapid change of assortment – for immediate reaction to customer demand depending on the time of day
Quick cleaning: cleaning in no time thanks to removable bottle chute, easy-to-remove plug-in frames, removable drawer pull and fold-up evaporator
Centrally cooled: E-valve R 134a, lines are led into the side of the installation compartment
Capacity: 60 pcs. 0.5 1 PET bottles
Temperature: air 5°C /product M2 / 3
Connection: 230V 50Hz, 108 watts
Cooling capacity: 588 W at VT -1 O °C
Dimensions 600/780 x 900 x 580/617 mm (LBH)
Back cupboard and bread shelf
Base unit line
APL version: Postforming
Front decor: E/H3395 ST12_Corbridge oak natu
Handle: Handle strip E2/EV1
Carcase decor: E/U 708 ST9_light grey
Depth carcase: 580
Depth APL: 650
Plinth version: 100 mm
Plinth trim: H/9102_Aluminium, brushed matt
Dimensions 1178 x 650 x 850 mm (LBH)
Sink base unit with hinged door without basin trim.
Carcase dimensions: 400 x 530 x 720 mm
Front: hinged on left
Installation 1: SB-320x435x155
Vanity unit with three English pulls
Cabinet size: 400 x 580 x 720 mm
Installation opt. 1: English pull
Installation Opt. 2: English pull
Installation Opt. 3: English pull
Front option: 3 x 1/3
Base unit with hinged door and cover for cup dispenser
Cabinet dimensions: 340 x 580 x 720 mm
Front version: 2 cup dispensers 063-98mm 1 hinged door
Front: hinged on right
1 intermediate shelf
Worktop
Material: Postforming
Finish: G/A1 MGM_black
Edge: A1 MGM_black
Dimensions 1178 x 650 x 850 mm (LBH)
Rectangular sink in stainless steel, with overflow fitting and stopper
Outer dimensions: 320 mm long, 435 mm wide, 155 mm deep
Internal dimensions: 240 mm long, 340 mm wide, 145 mm deep
Cut-out dimension: 415 x 300 mm
Single lever faucet, low pressure, all chrome, with swivel spout 160°, flexible connection hoses 3/8″, projection: 225 mm.
Soap dispenser stainless steel chrome-plated, container with 1,000 ml capacity.
Lobo II paper towel dispenser, brushed black stainless steel, freely fillable with 600 paper towels, four-point fixing for surface mounting
Dimensions 351 x 265 x 130 mm (LWD)
Room partition, 2,700 mm high, 40 mm thick, with floor connection by EV1/EV2 angle 50/20 mm and ceiling connection, decor-coated
Steel bread shelf, black steel frame, incl. 10 x Al-Wave with LED lighting, 3 x shelf, 3 x Transkorb light, 3 x Rolli for pastry baskets with baskets
Dimensions 2.600 x 410 x 2.650 mm (LBH)
Ceiling lighting LED warm white, various spotlights
Are you interested in the object? Then call us right away: +49 (0) 7275 9898780, or write to us using the contact form. Are you interested in payment by instalments or leasing? We will be happy to put you in contact with our partner banks and leasing companies.